Food and Beverage Market Continues Robust Growth in China
Overview
In 2011, China's food and beverage market established itself as the largest in the world. This development makes its success vital to China's overall advancement. The country's economic and population growth has been its primary market catalyst to date. WBD projects Chinese GDP to reach $8,730 USD per capita and the Chinese workforce to reach 805 million in 2016. These two factors have thrust China into the leading global food and beverage market spotlight.
Market Analysis
Geographic Concentrations

: The Chinese population is heavily concentrated along the country's coasts and center, which leads to major discrepancies in disposable income per capita. These regional disparities significantly influence the size and preferences of regional food and beverage markets.

Chinese Consumption Expenditures

: Consumption expenditures are heavily concentrated on food and beverage, accounting for 31.2 percent of nationwide spending. As per capita disposable income rises over the long-term, these percentages will undoubtedly shift with income trends.

Imported Food and Beverages

: As Chinese consumers' tastes change and disposable income rises, food and beverage market expands internationally. The market growth for food and beverage imports has grown by a staggering 280 percent from 2009 to 2016.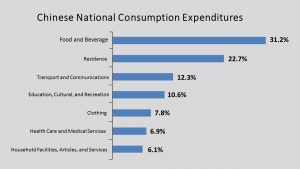 Growth Factors
Food Safety

: The public perceives imported food and beverages as safer than their domestic counterparts because of various domestic food safety crises.

Restaurant Preferences

: Chinese consumer preferences are shifting to international cuisines, leading to a boom in international dine-in restaurants' popularity. This trend has increased import demands while also introducing the Chinese consumer to new imported goods.

Prestige

: Chinese consumers deem premium food and beverages to be status symbols. These premium commodities typically appear when prestige is highly valued, such as when gift giving.

Online Shopping

: More than 50 percent of Chinese consumers online shop for food and beverages. They rely on this shopping experience to become familiar with new products and drive future buying trends.