Climate Change, Water Rights, and the American West
February 27, 2023
---
Without the Department of Interior's intervention, large swaths of the American West could run out of water and the ability to produce energy by 2025. More than 40 million people in seven western states rely on the Colorado River's Lake Powell and Lake Mead for their electrical power, municipal and industrial water, and irrigation water for nearly 5.5 million acres of agricultural land. Both reservoirs are drying up. Climate scientists and federal water managers predict that because of human-induced climate change and using more water than the Colorado River can produce, the reservoirs might reach "dead pool" status by 2025, meaning that water levels would become too low to flow downstream and spin the hydroelectric turbines below.
"We are in a crisis. Both lakes could be two years away from either dead pool or so close to dead pool that the flow out of those dams is going to be a horribly small number. And it just keeps getting worse … it might be too late to save the lakes." Tom Buschatzke, Director, Arizona Department of Water Resources, December 16, 2022
In August 2022, the Department of Interior (DoI) asked the seven states — California, Arizona, Nevada, Utah, New Mexico, Wyoming, and Colorado — to work collaboratively and submit a plan on how to restrict 30 percent of their water usage by February 1, 2023, or DoI will step in and do it for them. Six states submitted a proposal on January 31, 2023, on how they will work together and with the DoI to achieve DoI's goal.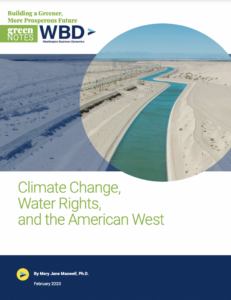 Author: Mary Jane Maxwell, Ph.D., is a Senior Expert at WBD and a Certified Climate Change Professional.