Navigating Compliance with the Buy American Act: Best Practices and Essential Resources
July 18, 2023
---
The Buy American Act (BAA) serves as a vital component of U.S. government procurement policies, aiming to promote domestic economic growth and support American industries by prioritizing the purchase of domestic products and materials by federal agencies. However, achieving compliance with the BAA can be challenging due to exemptions, waivers, and exceptions associated with the legislation. The procurement experts at WBD explore the best practices that government agencies can adopt to navigate the requirements of the Buy American Act effectively. In addition, we highlight essential resources that can assist agencies in understanding and implementing the BAA's provisions.
Understanding the Scope, Requirements, and Exceptions of the Buy American Act
Government agencies must comprehensively understand the Buy American Act's provisions and limitations to ensure compliance. The BAA generally requires that domestic end products acquired by federal agencies be substantially manufactured with components and materials originating in the United States. There are three tests for determining domestic end products or public-use construction materials.
A non-manufactured end product/construction materials must be mined or produced in the United States to qualify as domestic. For example, sand, unmodified gravel, and limestone constitute non-manufactured end product/construction materials.
A manufactured end product is manufactured substantially from articles, materials, or supplies (i.e., components) mined, produced, or manufactured in the United States. Additionally, domestic components must exceed a certain percentage of the cost of all components.
An iron or steel end product is manufactured in the United States if it consists wholly or predominantly of iron or steel, and the cost of foreign iron and steel is less than 5 percent of the cost of all its components.
Specifically for manufactured end products inside the United States, the BAA requires that the domestic component content (determined by component cost) exceeds 60 percent, 65 percent in 2024, and 75 percent in 2029. An example of a domestic end product would be an airplane engine the U.S. manufactures in Connecticut and includes components made in Country A, Country B, and the U.S. If the U.S. mines, produces, or manufactures more than 60 percent of the engine's component cost and manufactures the engine, it is considered a domestic end product.
Exceptions may apply if the domestic product is 20 percent or more expensive than an identical foreign-sourced product, if the product is not available domestically in sufficient quantity or quality (or as applicable with Class Determination), if doing so is in the public's interest (apply applicable trade agreement or defense procurement memorandum of understanding), or if it is the acquisition of information technology that is a commercial product, and lastly, if the foreign end product is for commissary resale.
Establishing Robust Internal Policies and Procedures
Clear internal policies and procedures are essential for government agencies to comply with the Buy American Act. These guidelines should outline the necessary steps for adherence, including soliciting bids, evaluating offers, and verifying compliance with the BAA. An example might be building a compliance matrix for market research and evaluations. By providing explicit instructions to staff and contractors, agencies can minimize the risk of inadvertently procuring non-compliant products.
Conducting Market Research
Thorough market research is essential for government agencies before initiating procurement processes. It helps identify domestic suppliers capable of meeting the Buy American Act's requirements. Remember, it is not the country of the contractor/supplier/vendor that matters. Market research must examine the country of origin of the materials, components, or products. Market research enables agencies to identify a pool of qualified vendors capable of delivering compliant products.
Incorporating Buy American Act Requirements into Solicitations and Contracts
To foster compliance, government agencies should include specific language in solicitations and contracts that outline the Buy American Act requirements. It is important to note that the specific FAR clauses applicable to a particular contract or solicitation may vary based on the type of procurement, the funding source, and other factors in the FAR 52.225 clauses. Contracting officers and legal counsel should carefully review the relevant clauses and tailor them to the specific requirements of each procurement action. Along with the existing Buy American Act FAR clauses, solicitation language should communicate the agency's expectation for domestic content and the need for potential bidders to demonstrate compliance with the BAA. Clearly stating these requirements, agencies will encourage competition while ensuring compliance.
Implementing Effective Verification Processes
Government agencies should establish robust verification processes to ensure compliance with the Buy American Act. These processes may include requesting certifications from suppliers, conducting on-site inspections, or reviewing documentation to validate the origin of components and materials. By implementing stringent verification processes, agencies can mitigate non-compliance risk and demonstrate due diligence in adhering to the BAA.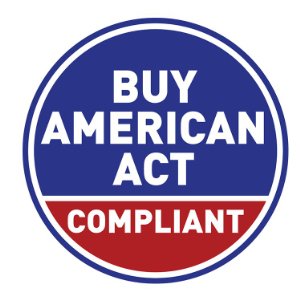 Promoting Collaboration and Training
Collaboration and knowledge-sharing among procurement professionals, requirement owners, and program managers are critical for Buy American Act compliance. Regular training sessions and workshops can update staff on changes to regulations, exemptions, and waivers associated with the BAA. Collaboration with industry, industry associations, and trade groups can assist the industry in developing compliance best practices that enable faster vendor selection and award processing.
Leveraging Technology Solutions
Advancements in technology can significantly assist government agencies and industries in achieving BAA compliance. Buying or modifying procurement software or integrating AI applications could streamline procurement processes, track supplier compliance, and generate comprehensive reports. By automating certain aspects of compliance verification, agencies can improve efficiency while minimizing errors and risks associated with manual processes.
Resources for BAA Compliance
Past and current Presidents and Congress continue to emphasize compliance with the Buy American Act is critical for government agencies to support domestic industries and stimulate economic growth. By adopting best practices such as understanding the Act's requirements, establishing internal policies, conducting market research, incorporating requirements into solicitations, implementing verification processes, promoting collaboration, and leveraging technology solutions, agencies can navigate the complexities of the BAA effectively. In addition, utilizing essential resources like the Federal Acquisition Regulation, the General Services Administration, the Department of Defense, the U.S. International Trade Administration, the National Institute of Standards and Technology, and industry associations can provide guidance and support throughout the compliance process. Through these measures, government agencies can comply with the requirements of the Buy American Act, contributing to the long-term prosperity of American industries.
Washington Business Dynamics
At WBD, our experts support our federal customers by developing procurement strategies and actions incorporating regulatory and policy compliance. We understand the complexities of the federal procurement process and how to advise and assist in the execution of your requirements.
Author: Carl Gorkos, Senior Consultant at WBD, is a federal acquisitions and supply chain policy professional engaged with the Department of Defense.